Voice of the haliwa69 about Mutation X V2(Authentic) from e-cigarette forum
2014-11-11 17:26:51
Voice of the haliwa69 about Mutation X V2(Authentic) from e-cigarette forum
Good morning ECF!!!! This will be my first review of my first authentic rda, and boy is it a good one. We switched from analogs to vapingabout a month ago. I quickly made the jump from an ego twist setup to a King clone mod, Tobh V2 atty, Stillare, and Patriot clone rdas; for power, I picked up three efest IMR 18650s250mah, and already had a Nitecore i2 charger. Here's the story...

My girlfriend(InstantKarma on here) and I visited our favorite vape shop this past Wednesday, Redd Dragon Vapor, for a juice refill and to try to pick up some odds and ends like kanthal and spare parts for a couple of rdas i recently picked up. Unfortunately they were out of 22 and 24 awg kanthal, and no luck on the screws for my Tobh clone. So, we tried some new flavors and chatted with the shop owners. I mentioned that I was considering giving up clone atomizers as I was having a bad day with all 3 that I own. He slid a nice little box down the juice bar and told me to take a peek. It was sold within 5 minutes of me opening the packaging.

It was one of 3 Mutation X Version 2 atomizers that were left in the shop. Me being curious, wanted to compare it to the V1 and the owner just happened to have one on one of his personal mods and let me try it out as well as the V2. After picking out some new flavors and refilling my favorites, Red Velvet Cake and a house flavor that's like a time machine back to my childhood Saturday morning of Cinnamon Toast crunch, Fruit Loops, and several other flavors; we headed home. Now, here is my take on this beauty of an RDA that has put my others into early retirement.

First, the packaging is nice. Similar to version 1, nothing too fancy that would raise the price or scream "I suck, so buy a nice box". It's very straightforward, and easy to get to the goodies. Included is a set of spare screws, o-rings, a TA driver for the triangular shaped screw head slots(More on this later), deck, barrel, airflow control and drip tip. There is a verification code scratch off on the back and the manufacturer's web address.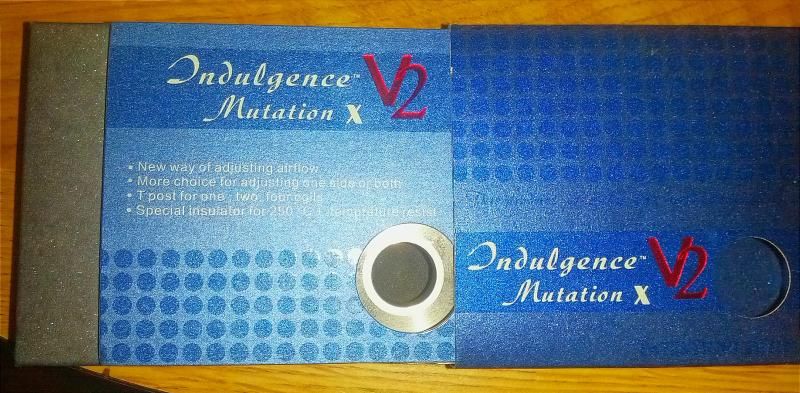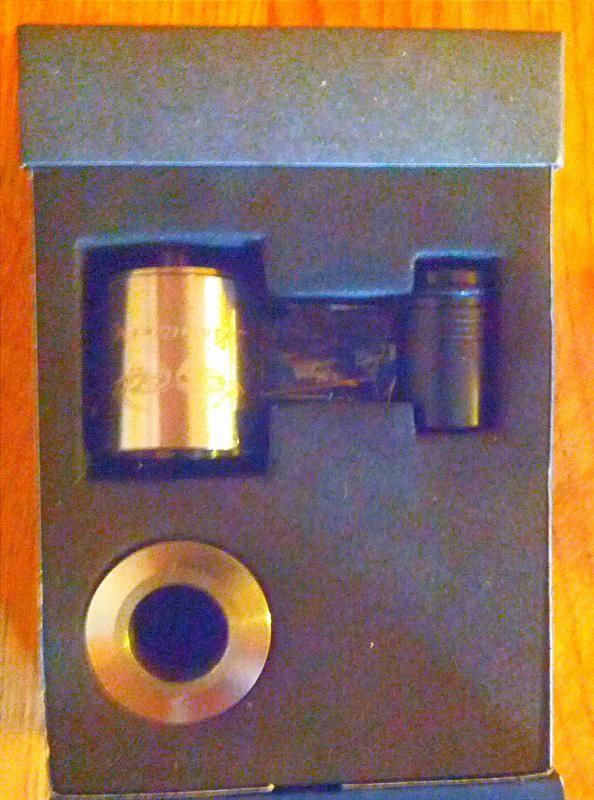 Now, I didn't get to spend much time with the version 1, but i'm kind of glad I didn't. Right off the bat, I noticed that the V2 had airflow options for single coil builds, which is nice. In my short time dripping and building coils, I have leaned more toward dual coil builds, just as a personal preference, but like the option of being able to throw a single in there and still be able to adjust the airflow. The airflow control coupled with the huge drip tip makes sure your vapor doesn't get too warm, although I have gotten popped a few times with hot juice. The drip tip is made of delrin and so far has done a good job of staying cool. I also found that some 510 drip tips will fit in the top of the provided drip tip. I know it may look funny, and it wasn't meant for this, for people that like a tighter draw or mouth to lung inhales, it helps. or you just have a sweet 510 drip tip that you want to stick on here, it might fit. They definitely could have made it a tight fit to the top cap or put some kind of lip in the top cap to keep the drip tip steady. The heat sinks seem to work ok, but a few back to back puffs at sub-ohm levels will leave the whole atomizer hot, not warm, to the touch. No big deal, unless you chain vape below 1 ohm all day and decide to hold on to the atty itself. Another peeve is that my chuff enuff cap will not fit the Mutation V2, but again, not a big deal as the drip tip included is plenty big.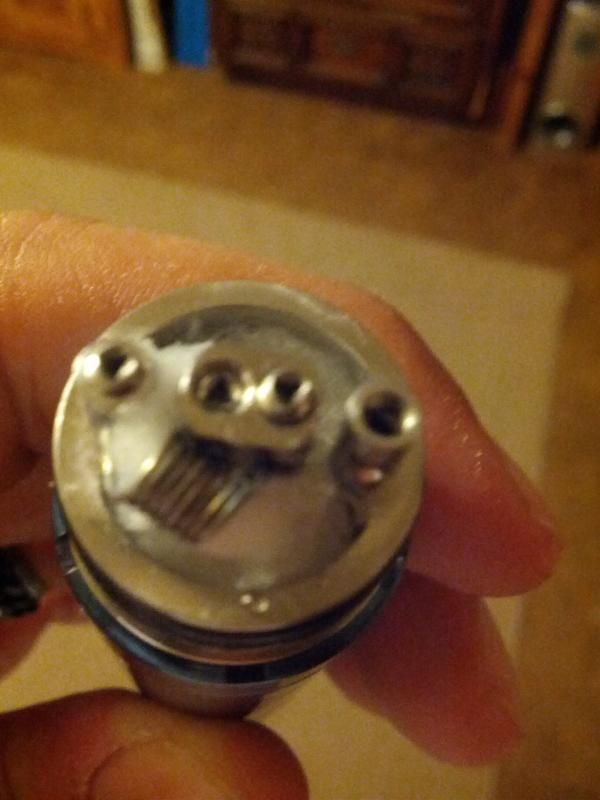 Now, for the belly of the beast. Inside you have a nice deep juice well, separated by a split positive post. It does seem that the juice well isn't quite as big as the V1, but I haven't measured to see. The post holes are plenty big for stuffing in that low gauge wire or your twisted, braided, tweaked, tiger, etc wires. The negative posts are milled into the deck, which seems to be the standard now. Now, about those screws. On one hand I like to have something other than phillips or slotted screws, but the triangular shaped screwdriver included is very soft and I believe I have rounded it off in the 2.5 days that I have had it. The screws themselves however feel solid and the threads are nice and smooth and do a very good job of securing even tiny 30 awg wire. The deck and internals feel solid, me being the ham handed giant I am, I don't think I could strip a screw or break anything unintentionally. The o rings are nice and thick, stiff and placed just right to hold the barrel on with a solid click, but not so tight that it's hard to pull off or adjust. There were some machining marks in the bottom of the juice well, but nothing too shoddy looking and for $30 for an authentic RDA, I wasn't expecting it to be polished down to the bone. The bottom of the atty is laser etched with "Mutation V2" and a serial number. The 510 threads are nice and smooth. The 510 pin is silver coated copper, unfortunately the silver coating is neither very thick or durable as mine has worn off in the short amount of time I have had mine. It still seems to hit just as hard and just as consistent, so i'm not complaining about that.

I got the stainless version with the brushed finish and it almost looks at home sitting atop my King clone. There is a slight ledge where it meets the top cap of the mod, so I don't think it's quite 22mm, unless mine is just an oddball. The logo looks to be laser etched and not very deep or dark, which I like. I don't buy products for a billboard, I buy for functionality and this product functions almost perfectly. The cherry on top is that it looks awesome. And, as an extra bonus, if it comes down to it, you can use the airflow control as a weapon or maybe even to slice your meat since its so sharp and comes to a scary sharp point.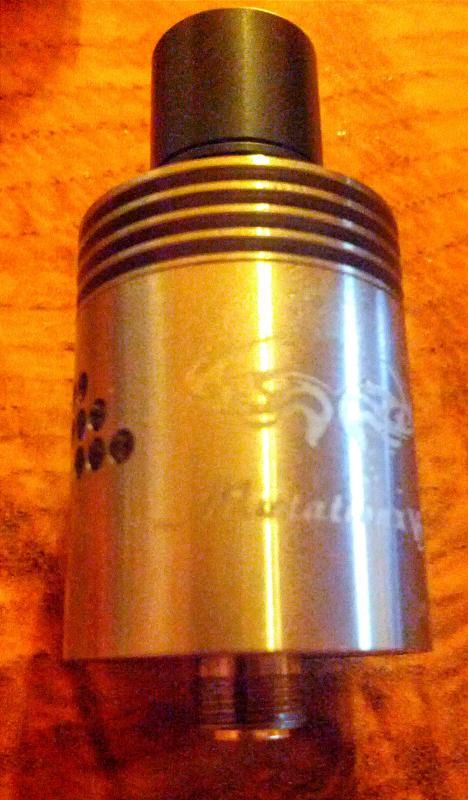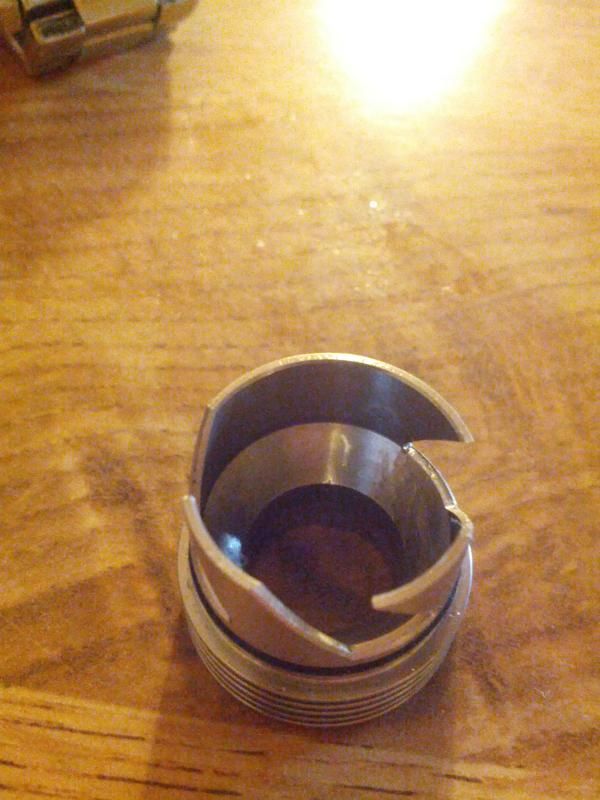 Overall, the Mutation X V2 is a great atty for those just getting into RDAs that want to buy their first authentic or something easy to build on; it has so far surpassed the flavor of my clones with the exception of the Stillare. I don't claim to be an expert on rebuildables or vaping in general, I just picked up this piece by accident and loved it. The shop owner didn't have much to do to sell me on it, I picked it up, took it apart and it was sold. After I bought it, he explained that his shop got in 100 units and I got one of three remaining. Another employee told me today that he didn't even get one. Looking around online, it doesn't look like very many shops are able to keep them in stock.

To recap:

Pros:
-Deep juice well
-Split positive post
-Amazing airflow control with single coil capability
-Huge bore drip tip
-Silver coated connection
-Solid design and hardware
-Very sexy
-Batarang-like spikes on afc ring

Cons:
-Huge bore drip tip spitback/lack of compatibility with 510 tips
-Heat sink fins don't seem to disburse heat very well
-Special screwdriver is needed
-Lack of availability

Let me know if I missed anything, but be gentle, i'm new at this and remember a lot of this is my opinion, with a few fun facts here and there. I hope to do more reviews in the near future.

Just a size comparison to my Tobh atty clone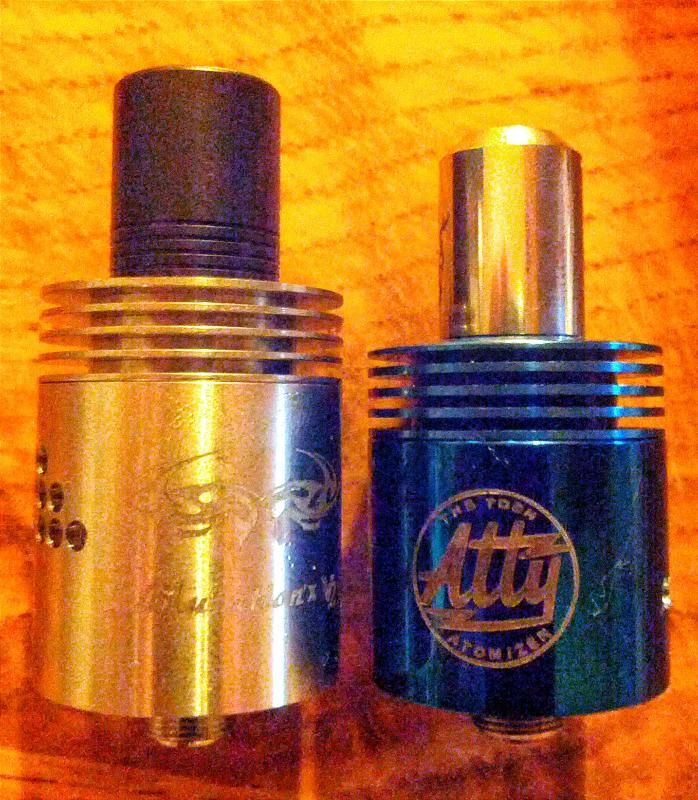 I felt like fogging out the bedroom...